by Alix Steel, 1/6/10
NEW YORK (TheStreet) —
Gold delivery for February was rising $9.60 to $1,128.30 an ounce at the Comex division of the New York Mercantile Exchange. Prices have traded as high as $1,133 and as low as $1,116.80 despite a stronger U.S. dollar. The U.S. dollar index was rising 0.14% to $77.75.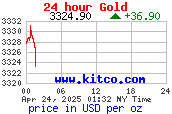 Silver prices were rising 20 cents to $18 an ounce while copper was up 6 cents to $3.47.
Investors were turning to riskier assets like commodities ahead of the Federal Reserve's FOMC minutes and Friday's U.S. unemployment number.
In the short term, investors will monitor the Fed's language looking for any hints of an interest rate hike; a better than expected jobs number might also raise the expectation of higher interest rates. Higher rates would quash inflation fears, support a strong U.S. dollar and put pressure on gold prices.
Today's ADP unemployment report showed that nonfarm private jobs decreased 84,000 from November to December. Although this was the smallest decline since March 2008, job losses are still mounting.
"If the numbers come out better than expected [on Friday] it's probably going to reinforce the positive risk trade," argues Nicholas Brooks, head of research and investment strategy for ETF Securities. "Investors are, at the moment, still looking for confirmation that the recovery is durable. I think they will start worrying about the interest rate element further down the line."
Gold prices started off strong Tuesday, touching $1,128 an ounce, but fell throughout the day settling to $1,118.70 as the dollar gained strength. Although worries over an interest rate hike are capping gold's bull run, prices are finding strong support from bargain hunters. "The risk trade seems to be back on again. The VIX is now sitting at its lowest level since 2007," says Brooks. "The dollar is coming off a bit and gold prices are starting to pick up a bit."
Capital Gold Group, gold group, gold, gold prices, gold news, gold coins, gold bullion, gold IRA, IRA gold